Atopodentatus unicus lived in Southwest China during the early-to-mid Triassic, around 247-240 million years ago. About 3m long (9'10"), it was a marine reptile – probably part of an early branch of the sauropterygians – with an elongated streamlined body and paddle-like limbs.
When it was originally described in 2014 it seemed to have a head unlike anything seen before. The skull of the only known fossil specimen was incomplete and badly crushed, but it was reconstructed as having a downward-hooking upper jaw with a vertical split in the middle forming a zipper-like row of teeth.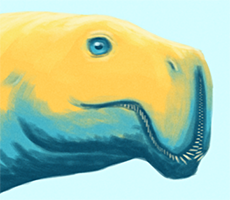 But then just two years later some more complete skulls were discovered and revealed something completely different: the projections on Atopodentatus' snout actually stuck out to each side in a wide flat "hammerhead" shape on both its upper and lower jaws.
Not quite as bizarre as before, but still a Triassic weirdo!
It also seems to have been a rare example of a herbivorous Mesozoic marine reptile, probably rooting around on the seafloor with its shovel-like mouth, using its chisel-shaped front teeth to scoop up mouthfuls of algae and other marine plants and then straining out the water through its closely spaced needle-like back teeth.