The big herbivorous moa-nalo weren't the only unusual waterfowl on the ancient Hawaiian islands — and the island of Kauaʻi had a very odd duck indeed.
The Kauaʻi mole duck (Talpanas lippa) was fairly small, about 50cm long (1'8″), and although it lived alongside one of the moa-nalo species they don't seem to have been closely related at all. It instead appears to have come from a different duck lineage entirely, with it's closest living relatives potentially being the stiff-tailed ducks.
It had short chunky legs and an especially weird skull, with eyes so tiny and underdeveloped that it must have been near-blind and flightless. But the areas of its brain associated with the sense of touch were proportionally huge, and although the exact shape of its beak currently isn't known it seems to have been very wide and flat.
It was probably a nocturnal bird that used an incredibly sensitive bill to grub around in the undergrowth for invertebrates, sort of an equivalent of the modern kiwi but with a face more like a platypus.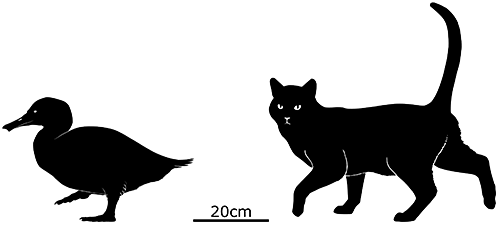 The only known Talpanas remains come from mid-Holocene deposits about 6000 years old, but since Kauaʻi is the geologically oldest of the main Hawaiian islands it may have existed there for several million years prior.
Like the moa-nalo it was likely driven to extinction due to human influences on its environment once Polynesian settlers reached the island, sometime between 300 CE and 1200 CE.