Thalattosaurs were another group of weird Triassic animals, found in coastal marine environments all around the world. Their evolutionary relationships are unclear beyond "they were some sort of diapsid reptile", and they were well adapted for aquatic life, with streamlined lizard-like bodies, short limbs with webbed feet, and long paddle-like tails.
Most of them had long narrow toothy snouts, but others had odd spear-shaped noses or downturned upper jaws.
Hescheleria rubeli here was one of the strangest, living in Europe during the mid Triassic, about 247-235 million years ago. It was one of the smaller known species of thalattosaurs, around 1m long (3'3″), and had a particularly bizarre-looking head.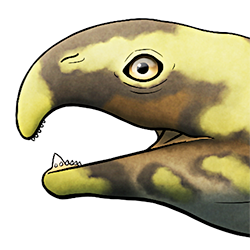 Its snout was so sharply curved downward that it formed a right-angled hook relative to the rest of its jaws, sort of resembling the initial interpretation of Atopodentatus but without the vertical split.
There were also small sharp teeth at the front of its mouth, along with a pair of large conical bony projections on its lower jaw.
This weird arrangement must have been highly specialized for something, but its actual function is still unknown. One suggestion is that the large jaw-spikes were used to crunch into hard-shelled prey, although there doesn't seem to have been any reinforced surface in the upper jaw for them to crush against.
But I personally wonder if maybe these jaws were the equivalent of the hooked kypes seen in the males of some modern salmonid fish – structures associated with dominance fighting.