Between about 9 and 7 million years ago, the modern regions of Tuscany, Corsica, and Sardinia were once part of a single island in the ancient Mediterranean Sea.
And since evolution often goes in weird directions on isolated islands, it's no surprise that some unusual species developed there.
One of which was a very odd duck.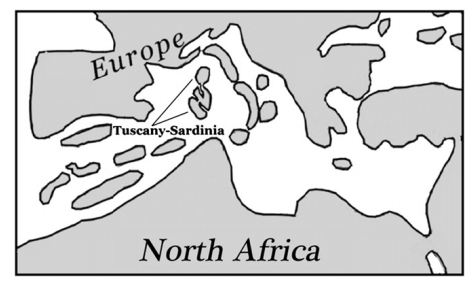 Bambolinetta lignitifila lived during the Late Miocene, about 7.5 million years ago. Known from a single partial skeleton discovered in the mid-1800s, it was initially thought to be a fairly normal dabbling duck and wasn't properly re-examined until 2014, when its strange features were finally recognized.
It was a medium-sized duck, probably around 50cm long (1'8″), but it had much chunkier wing bones than its relatives, with noticeably shortened forearms – looking much more like the wings of an auk or penguin, and suggesting that it was a similar sort of wing propelled diver. This is incredibly weird for a duck, since every other known diving species uses feet for propulsion instead, and so Bambolinetta may be the only known waterfowl to ever develop this type of underwater locomotion.
It's not clear whether it was still capable of flying or not. There were few predators in its habitat, so it may well have become completely flightless – and that could also be the reason it later went extinct. Sea levels in the region began to drop around 7 million years ago, reconnecting the Tusco-Sardinian island to the European mainland, and Bambolinetta's high level of ecological specialization and its potential island tameness would have given it little defence against an influx of new unfamiliar predators.