Tarjadia ruthae from the Middle Triassic of Argentina (~242-235 mya).
Originally known only from a few fragments, this 2.5-3m long (8′2″-9′10″) animal was first considered to be an indeterminate early archosaur, then a non-archosaurian doswelliid. But new fossil material and a recent analysis have instead placed it as a member of the erpetosuchids, an early group of pseudosuchians (the branch of the archosaurs that includes modern crocodilians).
Erpetosuchids were some of the earliest well-armored archosaurs, with several rows of bony osteoderms along their neck, back, and tail, and scattered oval osteoderms covering their limbs. Their fairly gracile build and slender limbs suggest they were active terrestrial carnivores – but it's hard to say exactly what they were preying on due to their somewhat odd skulls.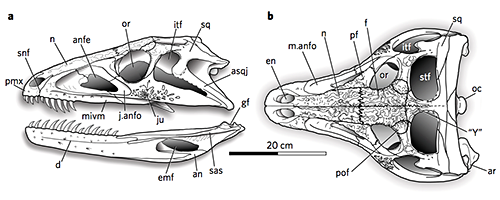 They had only a few teeth at the very front of their upper jaws, with the rest being toothless, but meanwhile the lower jaw was fully-toothed. Their skulls had narrow snouts at the front but became much wider further back, suggesting the presence of powerful jaw muscles, and they had slightly upward-facing eye sockets.
Smaller erpetosuchids are speculated to have been specialized for insect-eating, catching their small prey with their front teeth and then crushing it with the semi-toothless part of their jaws further back. But something the size of Tarjadia probably couldn't have survived on a purely insectivorous diet, and it must have been doing something else with its weird jaws.