The islands of Hawaii are part of a larger archipelago formed via hotspot volcanism in the Pacific, and are quite geologically young — the oldest of the main islands was formed just slightly over 5 million years ago, and the youngest less than 0.5 million years ago.
Located almost 3700km (2300 miles) from the nearest continental shore, they're the most isolated islands on Earth. Their native species are all descended from the rare colonization events that reached such a remote location, either via ocean rafting or island hopping from much older now-submerged islands northwest in the chain.
Like many other Pacific islands no land mammals ever reached Hawaii prior to human arrival, and so it was birds that ended up filling many of the vacant ecological niches.
The dominant herbivores of most the islands were the moa-nalo — no relation to the moa of New Zealand — a group of large flightless birds that resembled giant geese but were actually descended from ducks, with their closest living relative thought to be the modern Pacific black duck. They had reduced wings, chunky legs, and big heavy beaks, some featuring large serrations and others convergently resembling those of giant tortoises.
The Maui Nui large-billed moa-nalo (Thambetochen chauliodous) was one of the biggest species, about 90cm tall (~3′). It originally lived in the highlands of Maui Nui, a large island that formed over 1 million years ago — and when Maui Nui subsided and flooded about 200,000 years ago, it would have then occupied the resulting modern islands of Maui, Molokaʻi, Lānaʻi, and Kahoʻolawe.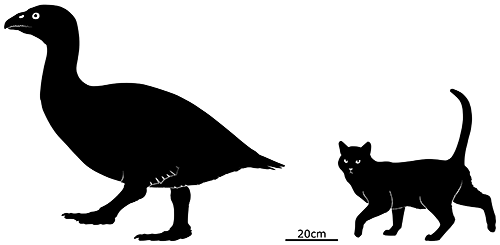 Polynesians reached the Hawaiian islands sometime between 300 CE and 1200 CE (the exact dating seems to be controversial). The moa-nalo would have suffered the same fate as many other flightless island birds, lacking any instinctive fear of the new arrivals and falling prey to the invasive pigs, dogs, and rats they brought with them.