The medusozoans are a group of cnidarians that includes modern true jellyfish, box jellyfish, stalked jellyfish, hydrozoans, and the weird fish egg parasite Polypodium.
Due to their soft gelatinous bodies their fossil record is very sparse. While vague fossilized blobs tend get interpreted as jellyfish fairly often, many of them turn out to be trace fossils or inorganic structures, and definite preserved medusae are only found in a few sites of exceptional preservation.
---
Among those rare examples of fossil jellies there are some amazingly well-preserved specimens known from the mid-Cambrian, discovered in the Marjum Formation in Utah, USA (~505 million years ago).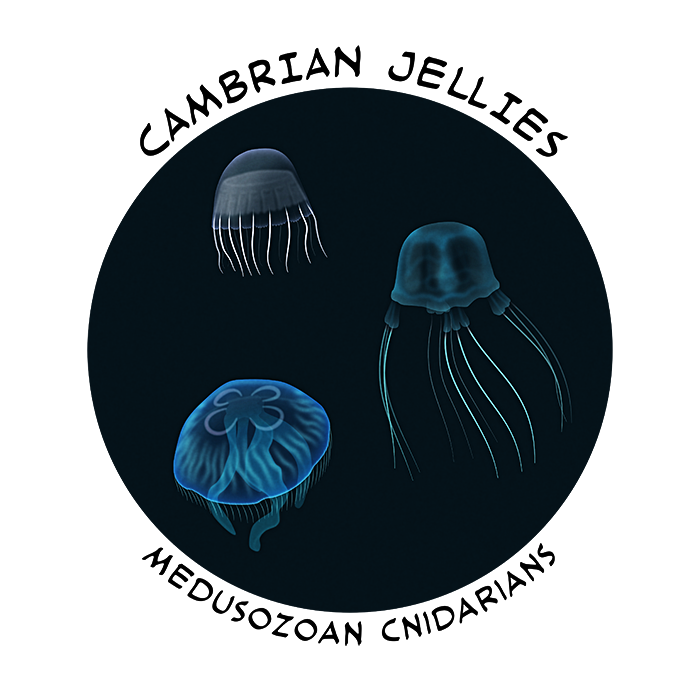 None of these species have been given their own names, and they're all tiny, only around 1cm in diameter (0.4″). But their anatomy is still preserved in enough detail to tentatively classify them into known lineages, including the box jelly, narcomedusan, and semaeostomean shown here.
Much larger Cambrian jellyfish have been also found in Death Valley, California, and in Wisconscin, representing preserved mass stranding events on ancient shorelines. Some of these jellies were up to about 50cm in diameter (20″), indicating that large soft-bodied animals were much more common in Cambrian seas than previously thought.