Asymmetry is commonly seen in the headgear of modern even-toed ungulates, with natural genetic variation, developmental stress, and injuries during life sometimes causing very wonky-looking horns or antlers.
No living species have asymmetry as a standard trait, however – but some fossil ungulates did.
Ramoceros osborni was a relative of the modern pronghorn living during the mid-Miocene, about 13 million years ago, in open plain habitats of what is now the Midwest and Mountain states of the USA.
It was smaller than modern pronghorns, around 70cm tall at the shoulder (~2'4″), and males had long antler-like horns with three tines. Bizarrely, one of these horns was always at least twice the size of the other, with "left-horned" and "right-horned" individuals seeming to occur in equal numbers.
It's not clear how this asymmetry affected combat between males. Could they only properly lock horns with "opposite-sided" rivals, or did this uneven arrangement actually prevent physical fights and restrict them more to just visual displays?
---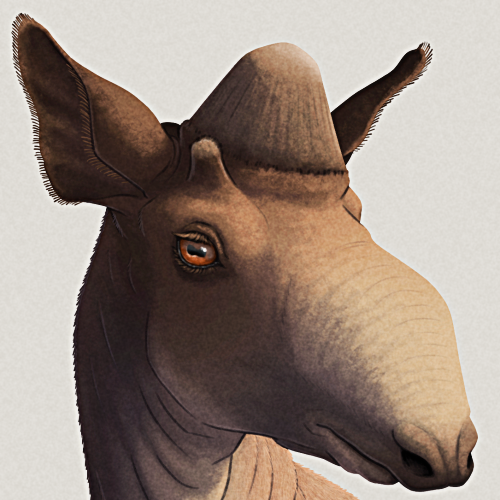 Meanwhile in China another Miocene ungulate known as Tsaidamotherium hedini also had strange headgear, with an enlarged right "horn" forming a helmet-like dome on top of its head. This species was featured here on the blog just year, so check out that post for more details about it.