Gypsonictops
A group known as the leptictidans were probably some of the weirdest early eutherians. With their tiny forelegs, big hindlegs, and long counterbalancing tails, they somewhat resembled jerboas or small kangaroos – except they also had long slender snouts that probably ended in sengi-like proboscises, and their feet were structured more like those of running animals than jumping ones. They're also thought to have been mainly bipedal, convergently evolving a similar posture and movement style to non-avian theropod dinosaurs.
First appearing in the Late Cretaceous, they made it through the end-Cretaceous extinction and survived up until the mid-Cenozoic across the northern hemisphere, going extinct around 33 million years ago. They were probably omnivores, eating a mixture of insects, small vertebrates, and soft plant matter such as fruit and leaves.
Their mix of "primitive" skull features and highly specialized skeletons makes classifying them particularly difficult. They've been proposed to be placentals related to primates and rodents or afrotheres, a very early branch of the eutherians, or close to placentals but not quite true members themselves. The latter interpretation currently seems most likely, but they could also be a paraphyletic group at the base of placentals (suggesting that they could even be ancestral to placentals, and therefore all placentals would technically be leptictidans).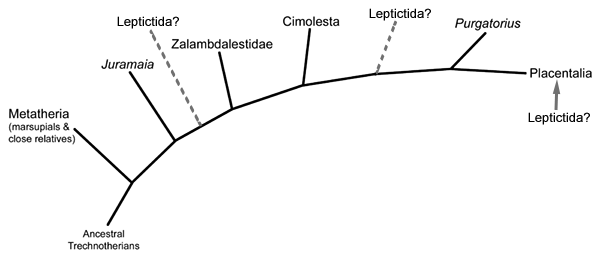 Gypsonictops was one of the earliest leptictidans, living during the Late Cretaceous of North America (70-66 mya). Known only from teeth and jaw fragments, we don't know much about its appearance or full size – although it was probably smaller than its later relatives, perhaps about 35cm long (1′2″).
Any reconstruction of such fragmentary remains is going to be very speculative, but I've restored it here as a sort of transitional form, not yet quite as specialized. A more sengi-like animal, mainly quadrupedal but able to run and hop on its hind legs to flee from danger or chase after small fast-moving prey.