Most of the wastebasket taxa featured this month are completely extinct and known only from fossils, but to start things off let's take a look at a major example of how even groups with living members could have their classification muddled up for centuries.
---
The name Insectivora first came into use in the early 1820s, and was used to refer to various "primitive-looking" small insect-eating mammals, with modern shrews, moles, hedgehogs, tenrecs, and golden moles as the original core members.
Then over the next few decades solenodons, treeshrews, sengis, and colugos all got lumped in with them too.
By the early 20th century insectivorans were considered to represent the "primitive" ancestral stock that all other placental mammals had ultimately descended from, and any vaguely similar fossil species also got dumped under the label. Extinct groups like leptictids, cimolestans, adapisoriculids, and apatemyids all went into the increasingly bloated Insectivora, too, making the situation even more of a wastebasket as time went on.

The problem was that the only characteristics that really united these various animals were very generic "early placental mammal" traits – small body size, five clawed digits on the hands and feet, relatively unspecialized teeth, and mostly-insectivorous diets – and attempts at making sense of their evolutionary relationships were increasingly convoluted.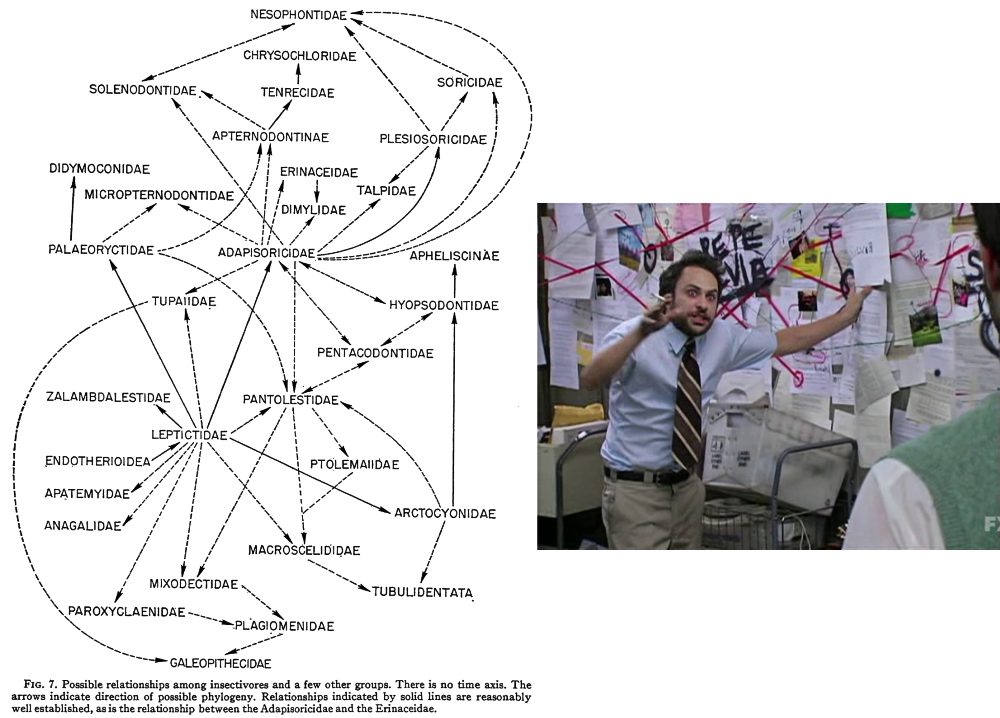 (Image sources: http://hdl.handle.net/2246/358 & https://knowyourmeme.com/memes/pepe-silvia)
The rise of cladistic methods from the 1970s onwards resulted in a lot of "insectivores" finally being recognized as unrelated to each other, removing them from the group and paring things back down closer to the name's original definition. The idea that insectivorans were ancestral to all other placentals was abandoned, instead reclassifying them as being related to carnivorans, and the remaining members were recognized as just retaining a superficially "primitive" mammalian body plan.
Just shrews, moles, hedgehogs, solenodons, tenrecs, and golden moles were left, and to disassociate from the massive mess that had been Insectivora this version of the group was instead now called Lipotyphla.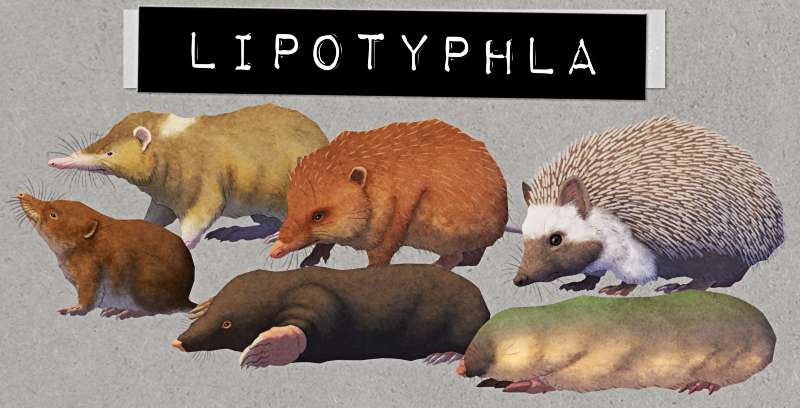 But there were still no unique anatomical links between the remaining lipotyphlans. And then once genetic methods became available in the late 1990s, something unexpected happened.
Studies began to suggest that tenrecs and golden moles were actually part of a completely different lineage of placental mammals, the newly-recognized afrotheres, with their closest relatives being sengis and aardvarks. Meanwhile the rest of the lipotyphlans were laurasiatheres, closely related to bats, ungulates, and carnivorans.
Lipotyphla was suddenly split in half. For a while it was unclear if even the remaining shrew-mole-hedgehog-solenodon group was still valid – hedgehogs' relationships were especially unstable in some studies – but by the mid-2000s things began to settle down into their current state.
Finally, after almost 200 years of confusion, the insectivore wastebasket has (hopefully) now been cleaned up. The remaining "true lipotyphlans" do seem to all be part of a single lineage, united by their genetics rather than by anatomical features, and are now known as Eulipotyphla.
A few fossil groups like nyctitheriids and amphilemurids are generally also still included, but since this classification is based just on their anatomy it isn't entirely certain. The only exception to this are the nesophontids, which went extinct recently enough that we've actually recovered ancient DNA from them and confirmed they were eulipotyphlans closely related to solenodons.
---
And a bonus image with species IDs:
Continue reading

"It Came From The Wastebasket #01: Is This An Insectivore?"