(Apologies for the abrupt absence – I'm okay, just having everything break down at once. This is fine.)
So— back to the speculative evolution request list!
TheBigDeepCheatsy requested a "cactus-dwelling/germinating evolution of introduced rosy-faced lovebirds":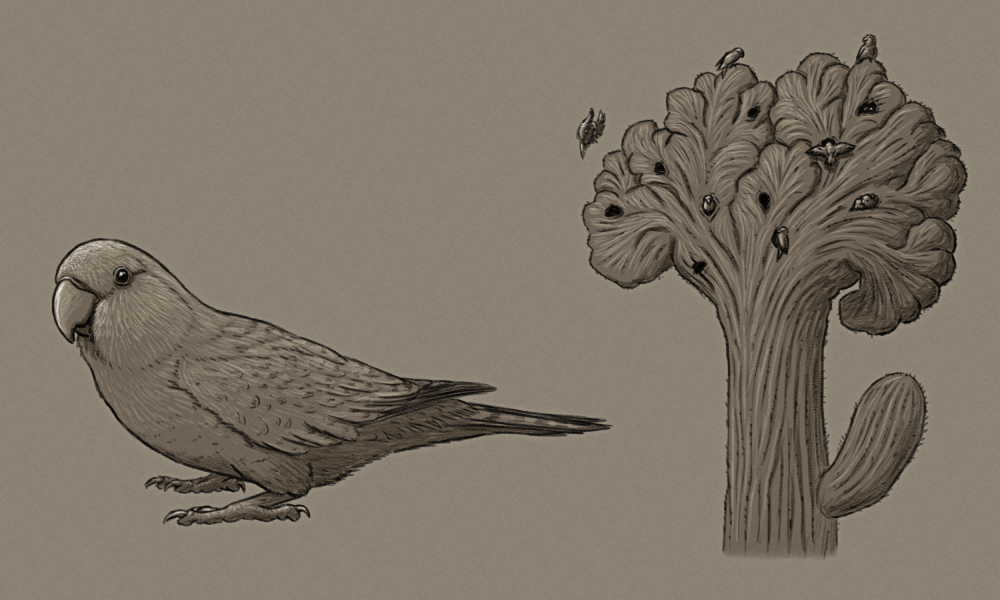 While Agapornis cheatsyi is still quite physically similar to its introduced ancestors, this lovebird has developed a close symbiotic relationship with the cactus Carnegiea ornipolis, a descendant of the modern saguaro.
Naturally fasciated, this cactus grows a splaying fan-like crown which the lovebirds excavate their shallow nest burrows into. Feeding on the cactus' fruit in early summer, the lovebirds then disperse the seeds via their droppings – a process that significantly improves propagation chances, both due to the birds commonly foraging and defecating around suitable nurse plants and the passage through their gut speeding up germination.
---
Someone calling themself "LB" asked for some "flying afrotherians":
Elbeitandraka venenifer is a descendant of tree-climbing Malagasy tenrecs that developed gliding membranes – and its lineage is now just about achieving true powered flight.
About 25cm long (~10″), its proportionally short broad wings require it to fly very fast to generate enough lift for its weight. It mostly only actively flies when traveling between roosts and feeding sites (or when escaping from threats), alternating between gliding to save energy and flapping to recover altitude.
It's an opportunistic omnivore, crawling around in the tree canopy foraging for vegetation, fruits, fungi, invertebrates, and the occasional smaller vertebrate, using its flexible sengi-like nose to probe around in crevices.
Much like modern common tenrecs it's capable of hibernating for months at a time through periods of scarce food availability. It also accumulates alkaloid toxins in its body from its arthropod prey, advertising its unpalatability to predators with bold contrasting warning coloration on its wing membranes.
---
And here's a combination of a couple of anonymous requests for both "flying heterodontosaurs" and "dragons with hind leg wings, a la sharovipteryx":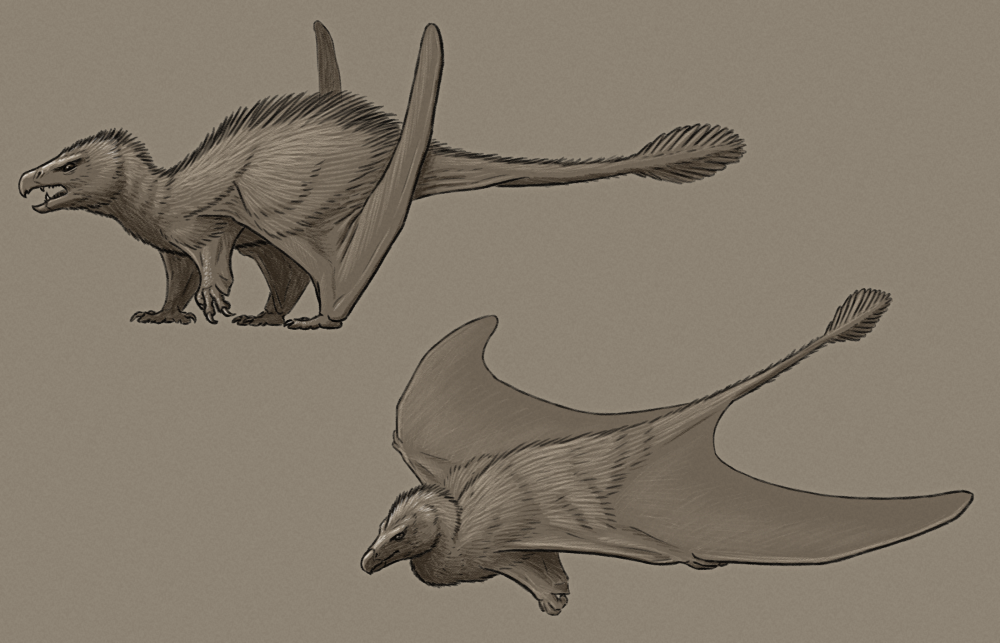 Inversodraco rapax is a highly specialized Jurassic descendant of heterodontosaurids that took to climbing and gliding, developing delta-wing-like membranes on their hindlimbs convergently similar to those of the earlier sharovipterygids.
Around 75cm long (~2'6″), it has unusually flexible hip joints for a dinosaur, able to splay its legs out to the sides to deploy wings supported by an elongated outer toe on each foot. Its arms form small forewings for stability, and its long tail ends in a vane of stiffened feathers that aid in steering.
Unlike its herbivorous-to-omnivorous ancestors it's primarily a carnivore, swooping down onto small prey and grabbing it with its talon-like forelimbs.