[Previously: the Jurassic and Cretaceous]
The final section of the Crystal Palace Dinosaur trail brings us to the Cenozoic, and a selection of ancient mammals.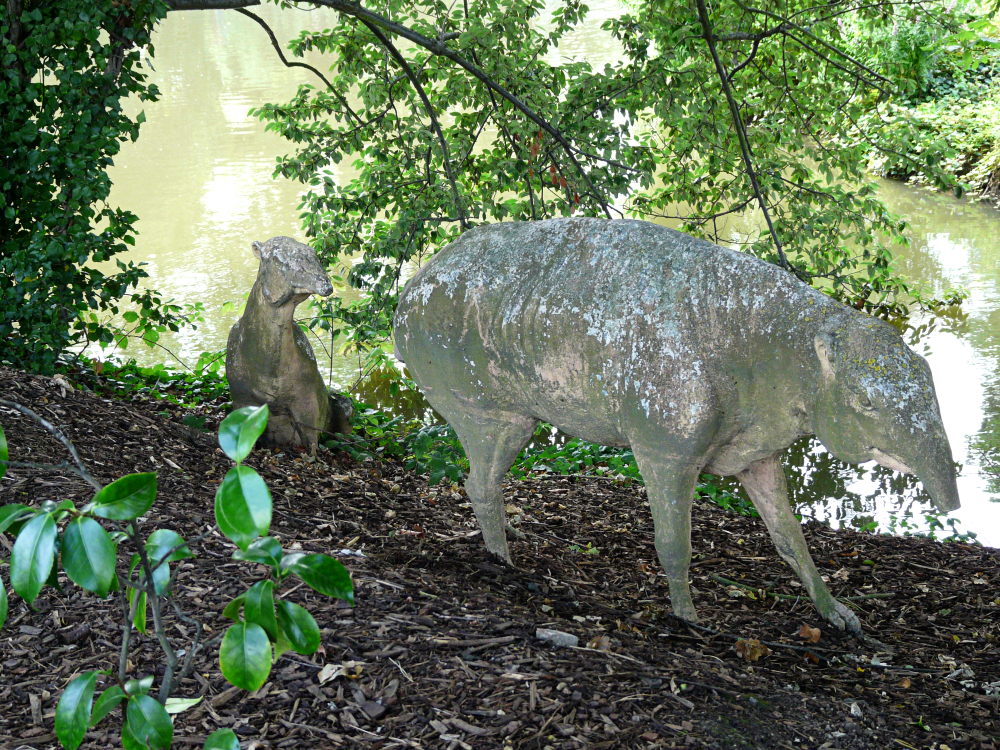 Originally represented by three statues, there are two surviving originals of the Eocene-aged palaeotheres depicting Plagiolophus minor (the smaller sitting one) and Palaeotherium medium (the larger standing one).
The sitting palaeothere unfortunately lost its head sometime in the late 20th century, and the image above shows it with a modern fiberglass replacement. Then around 2014/2015 the new head was knocked off again, and has not yet been reattached – partly due to a recent discovery that it wasn't actually accurate to the sculpture's original design. Instead there are plans to eventually restore it with a much more faithful head.
These early odd-toed ungulates were already known from near-complete skeletons in the 1850s, and are depicted here as tapir-like animals with short trunks based on the scientific opinion of the time. We now think their heads would have looked more horse-like, without trunks, but otherwise they're not too far off modern reconstructions.
There was also something exciting nearby: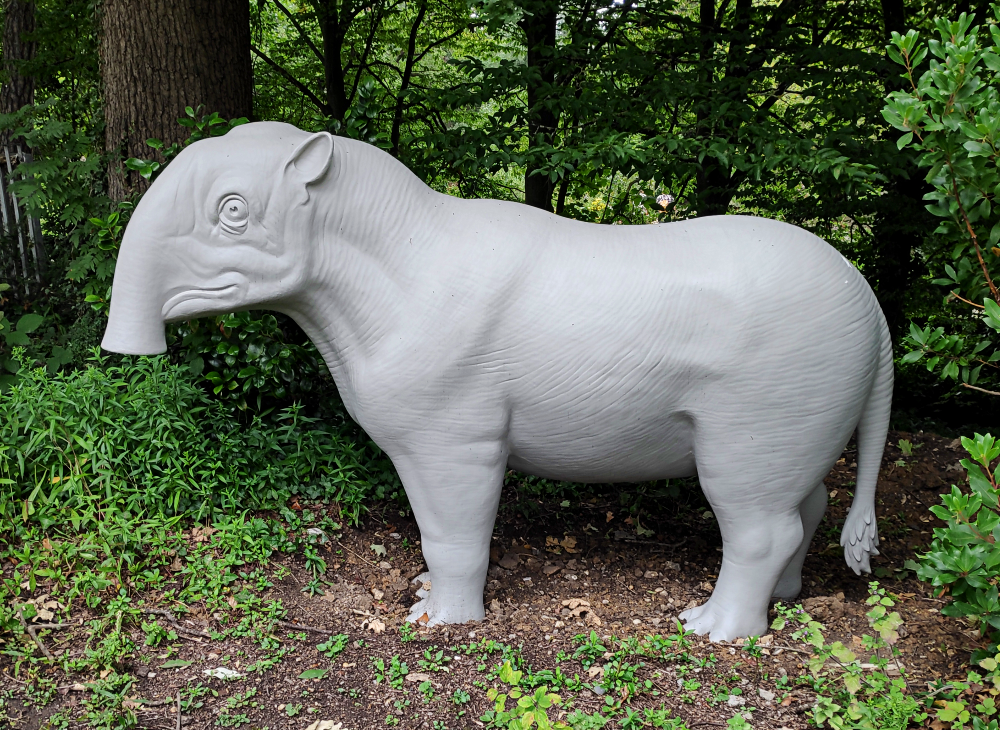 The recently-recreated Palaeotherium magnum!
This sculpture went missing sometime after the 1950s, and its existence was almost completely forgotten until archive images of it were discovered a few years ago. Funds were raised to create a replica as accurate to the original as possible, and in summer 2023 (just a month before the date of my visit) this larger palaeothere species finally rejoined its companions in the park.
Compared to the other palaeotheres this one is weird, though. Much chonkier, wrinkly, and with big eyes and an almost cartoonish tubular trunk. It seems to have taken a lot of anatomical inspiration from animals like rhinos and elephants, since in the mid-1800s odd-toed ungulates were grouped together with "pachyderms".
---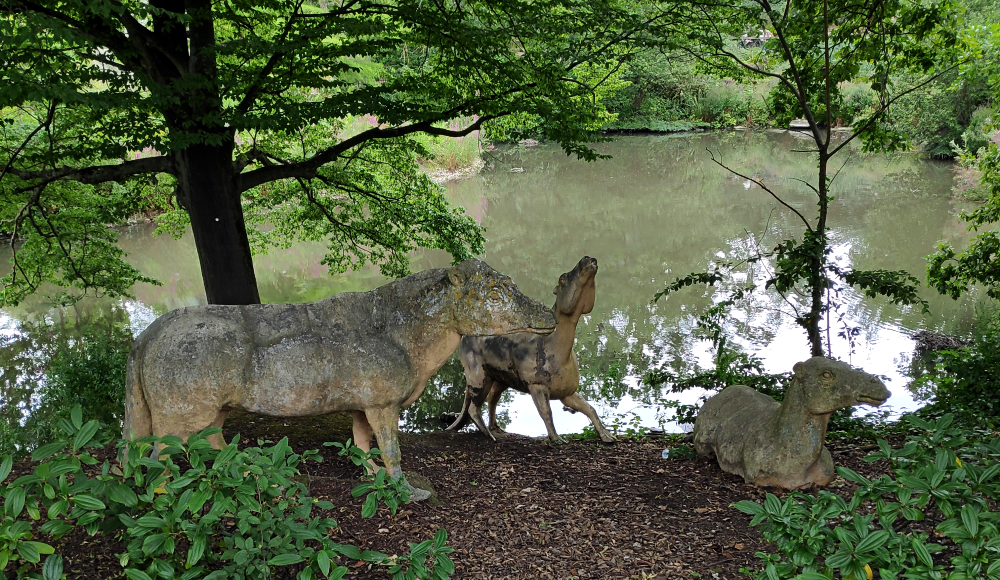 Next is Anoplotherium, an Eocene even-toed ungulate distantly related to modern camels.
(Apparently the sculpture closest to the water is a replica of a now-lost original, recreated from photo references in the same manner as the new Palaeotherium magnum. I can't find a definite reference for when this one was done, though – I'd guess probably during the last round of major renovations in the early 2000s, at the same time as the now-destroyed Jurassic pterosaur replicas?)
Anoplotherium commune is a rather obscure species today, but it was one of the first early Cenozoic fossil mammals to be recognized by science in the early 1800s. Depicted here as small camel-like animals, the three statues are positioned near the water's edge to reflect the Victorian idea that they were semi-aquatic based on their muscular tails.
Today we instead think these animals were fully terrestrial, using their tails to balance themselves while rearing up to reach higher vegetation. Their heads would also have looked a bit less camel-like, but otherwise the Crystal Palace trio are still really good representations.

---
Next is a sculpture that's very easy to miss in the current overgrown state.
Who's that peeking over the bushes?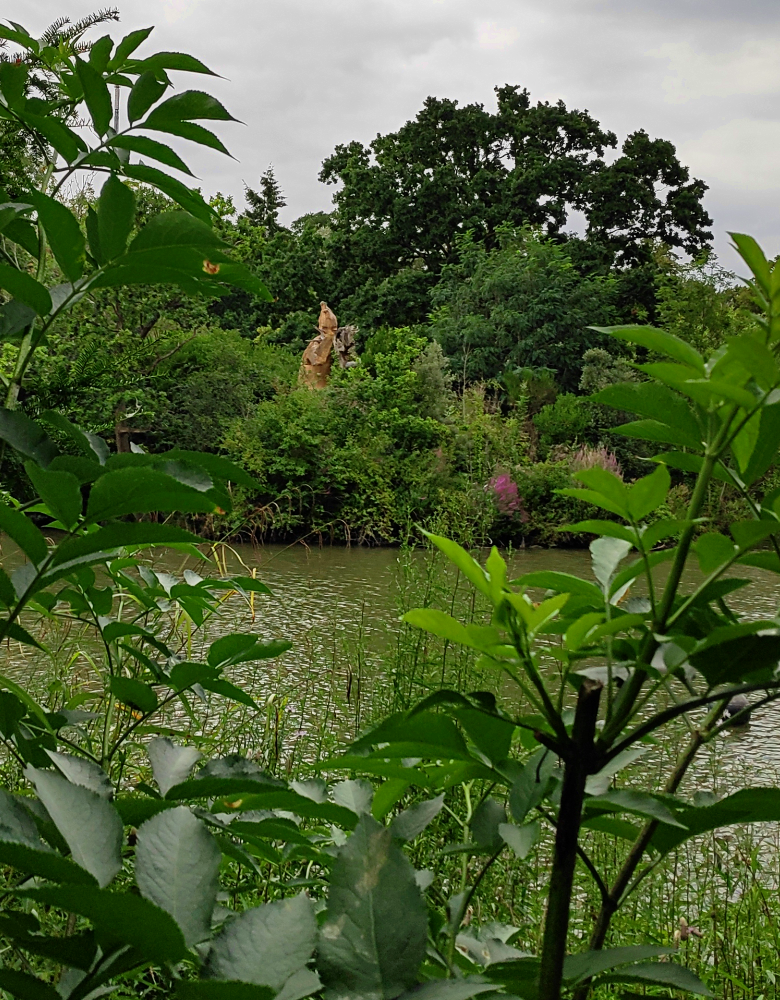 Going all the way around to the far side of the lake reveals a distant glimpse of the Pliocene-to-Holocene giant ground sloth Megatherium.
Fossils of Megatherium americanum had been known since the late 1700s, but the 1854 Crystal Palace statue was still one of the first life reconstructions of this animal. Its anatomy is actually very close to our modern understanding, depicted with correctly inward-turned feet and sitting upright to feed on a tree with its tail acting as a "tripod".
However, we now know it didn't have a trunk-like nose, but instead probably had prehensile lips more like those of a modern black rhino.
Something weird also appears to have happened to the Crystal Palace Megatherium's hands. Early illustrations of the sculpture all consistently show it with the typical long claws of a sloth, but today it's missing its right hand and its left has only a strangely stumpy paw – suggesting that at some point in the intervening 170 years there was an unrecorded crude repair.

---
And finally we end the trail with three Megaloceros, the Pleistocene-to-Holocene "Irish Elk" that's actually neither exclusively Irish nor an elk.
There was originally a fourth giant deer sculpture in this herd, a second resting doe, but it was destroyed sometime during the mid-20th century. The stags also initially had real fossil antlers attached to their heads, but these were removed and replaced with less accurate versions at some point by the mid-20th century.
One of the stags' antlers suffered some damage in 2020, ending up drooping, and since then one antler has either fallen off or been removed.
In the 1850s Megaloceros giganteus was thought to be closely related to deer in the genus Cervus, and so the Crystal Palace reconstructions seem to be based on modern wapiti – specifically in their winter coats, fitting for ice age animals – since both the stags and the doe sport distinctive thick neck manes.
We now know Megaloceros was actually much more closely related to modern fallow deer, and so probably resembled them more than wapiti. Cave art also shows that it had a hump on its shoulders, and even gives us an idea of what its coloration was.
---
…But wait!
There's actually one more thing.
A small statue sitting on the far side of the deer herd, missing its ears, and seemingly representing a Megaloceros fawn.
Except it's actually something very different and very special.
Some recent investigation work revealed some surprising information about the Crystal Palace mammal statues – much like the nearly-forgotten large Palaeotherium, there was originally an entire group of four small Eocene-aged llama-like Xiphodon gracilis that had disappeared from living memory.
There was also no historic record of a fawn with the giant deer, but instead a suspiciously similar-looking sitting sculpture is illustrated among what we now known are the four missing Xiphodon in early records.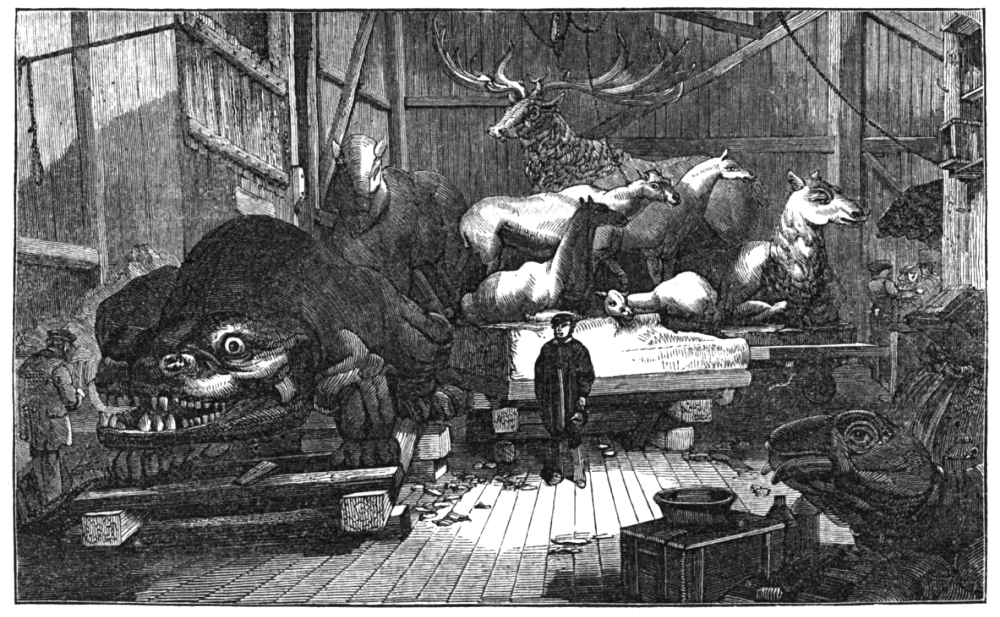 Somewhere in the late 19th or early 20th century three of the Xiphodon must have been completely lost, and the remaining individual was misidentified as a fawn and placed with the giant deer herd.

---
Rediscovering a whole extra species among the Crystal Palace statues is exciting, but it also demonstrates just how much of these sculptures' history has gone completely undocumented.
The mammal statues especially seem to have suffered the most out of the "Dinosaur Court", being often overlooked, neglected, disrespected (at one point the Megatherium was inside a goat pen in a petting zoo!), and subjected to cruder repairs. A total of five original statues are now known to be missing from this Cenozoic section – the original large Palaeotherium, the three other Xiphodon, and the second Megaloceros doe – compared to the two pterosaurs lost from the Mesozoic island.
Hopefully the excellent recreation of the lost Palaeotherium magnum is the start of a long overdue new lease of life and conservation attention for all of the Crystal Palace sculptures. It was disappointing seeing them all in such an overgrown state, and with signs of ongoing disrepair in places such as the plant growing out of the big ichthyosaur's back.
But there has been some resurgence of interest and public attention in the Crystal Palace sculptures over the last few years, so with any luck these historic pieces of early paleoart will survive on to their 200th anniversary and beyond, to keep on reminding us of where things began and how far our understanding of prehistoric life has since come.