Mammalian tusks usually grow in symmetrical pairs with only minor developmental asymmetry, but a few species have evolved much more uneven arrangements.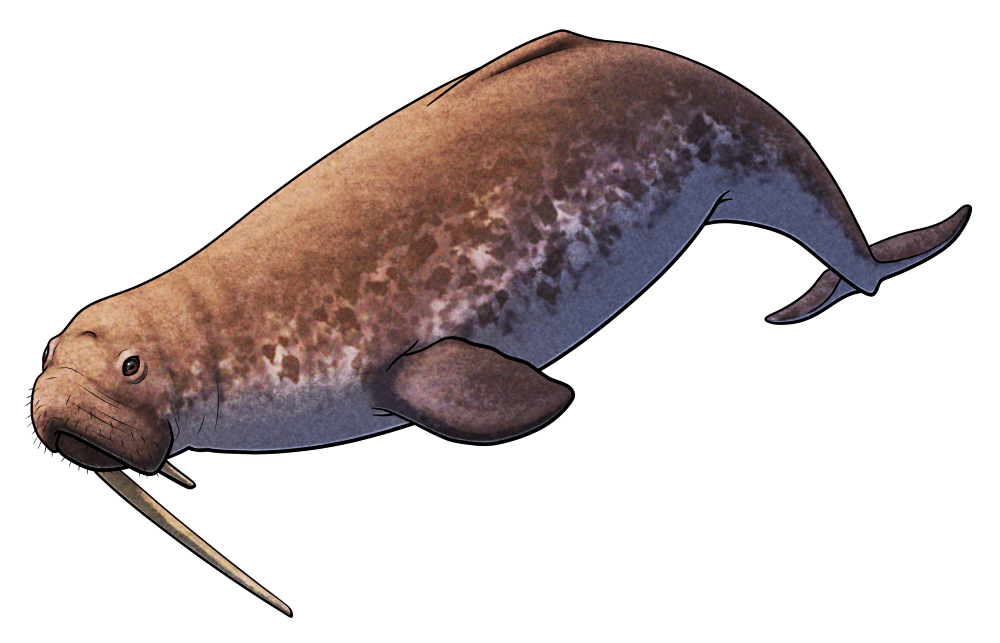 Odobenocetops peruvianus was a small toothed whale that lived during the Miocene, about 7-3 million years ago, in shallow coastal waters around what is now Peru. Around 3m long (~10′), it was a highly unusual cetacean with binocular vision, a vestigial melon, muscular lips, and a pair of tusks – features convergent with walruses that suggest it had a similar lifestyle suction-feeding on seafloor molluscs and crustaceans.
In males the right tusk was much more elongated than the left, measuring around 50cm long (~1'8″) in this species and up to 1.35m (4'5″) in the closely related Odobenocetops leptodon. Since these teeth were quite fragile they probably weren't used for any sort of combat, and they may have instead served more of a visual display function.
And despite being closer related to modern narwhals and belugas than to other toothed whales, Odobenocetops' long right-sided asymmetric tusks actually seem to have evolved completely independently from the iconic left-sided asymmetric spiral tusks of narwhals.
---
The woolly mammoth (Mammuthus primigenius) lived across Eurasia and North America during the last ice age, mostly from the Pleistocene about 400,000 years ago to the early Holocene about 10,000 years ago – altohugh a few relict populations survived until around 4,000 years ago in isolated areas of Alaska, Siberia, and eastern Russia.
Around 3m tall at the shoulder (~10ft), these hairy proboscideans had very long curving tusks that were used for digging out vegetation from under snow and ice, scraping bark from trees, and for fighting.
The tusks showed a lot of variation in their curvature, and were often rather asymmetrical, a condition also seen in the closely related Columbian mammoth. Like modern elephants mammoths may have also favored using one side over the other for certain tasks, which over their lifetimes could result in uneven wear exaggerating the natural asymmetry even more.