Welcome to March, and the Month of Mesozoic Mammals!
Although traditionally depicted as tiny "boring" shrew-like animals completely overshadowed by the dinosaurs they lived alongside, in the last decade or two we've discovered that Mesozoic mammals were actually incredibly diverse. They ranged in size from only a few centimeters to over a meter long, adapted to a wide range of ecological niches, and developed into some of the most successful and long-lived mammal groups of all time.
So this month we'll be looking at how mammals evolved and experimented during the Age of Dinosaurs, from their earliest Triassic ancestors all the way to the end-Cretaceous extinction.
Starting with…
---
Thrinaxodon & Trucidocynodon
All mammals are synapsids (related to animals like Dimetrodon), and are descended from a group known as the cynodonts.
Cynodonts originated in the Late Permian, about 260 million years ago, and were one of the few synapsid lineages to survive through the devastating Permian-Triassic extinction. Although not quite mammals themselves, their skeletons were already fairly mammal-like, with semi-upright postures, differentiated thoracic and lumbar vertebrae, a secondary palate that allowed them to eat and breathe at the same time, and pits on their snouts suggesting they had well-developed whiskers – which would also imply the presence of a coat of fur, since whiskers are modified hairs.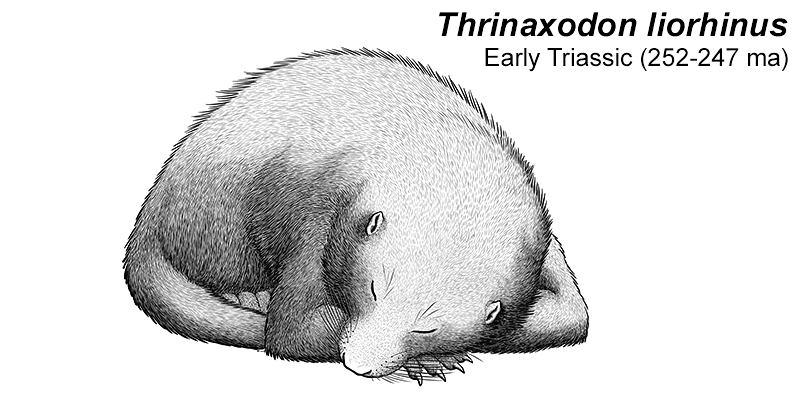 Thrinaxodon was an early cynodont about 50cm long (1′8″), living in the Early Triassic of South Africa and Antarctica shortly after the mass extinction (~252-247 mya).
It was capable of digging, with complete specimens found curled up inside their burrows, including pairs that may indicate some form of social behavior and one instance of sharing with a temnospondyl amphibian.
---
Trucidocynodon lived later during the Triassic in Brazil (~220 mya) and was one of the biggest known non-mammalian cynodonts at around 1.2m long (4′).
It had more upright limbs than some of its other relatives, and a semi-digitigrade stance that seems to have been adapted for running, suggesting it was an active predator. Considering it was living at a time when predatory crocodile-relatives and early dinosaurs were thought to be the dominant carnivores, its large size is especially surprising.