Gastropods – snails and slugs – are a group of molluscs that originated sometime in the Cambrian Period, with the earliest definite stem-gastropods known from around 510 million years ago and the first true gastropods turning up in the early Ordovician.
The spiral-coiled shells of snails are their most familiar feature, giving them obvious external asymmetry, but gastropods are also defined by a specific type of internal asymmetry known as torsion.
Torsion is an anatomical process that occurs during larval development, and involves rotating their internal organs, mantle, and shell a full 180° relative to their head and muscular foot. This twists their gut into a U-shape, knots up their nervous system, and brings their respiratory organs and anus up close to their head.
And we still don't really know why they do it.
One idea (the "rotation hypothesis") is that it originated as a defensive function after early gastropods began developing their spiral shells. The shell opening may have originally been positioned at early gastropods' rears, meaning they retracted their bodies back-end-first leaving their heads and sensory structures still vulnerable – but twisting the shell around would allow them to pull their front end in faster instead.
A competing idea (the "asymmetry hypothesis") instead proposes that the shape of the coiled shell restricted the gills of early gastropods, which may have originally been positioned in mantle cavities on each side of their bodies. In response to this they developed a single larger gill cavity on just one side of their body, and then gradually expanded and rotated this asymmetric feature around to the front for better aeration.
In either case this resulted in some of the rest of their anatomy "coming along for the ride". And regardless of whatever the original evolutionary advantage of torsion actually was, it made gastropods incredibly successful – they're a massively diverse group, second only to the insects in terms of sheer number of species, and today they're found all over the world in almost every habitat from deep sea trenches to high mountain elevations.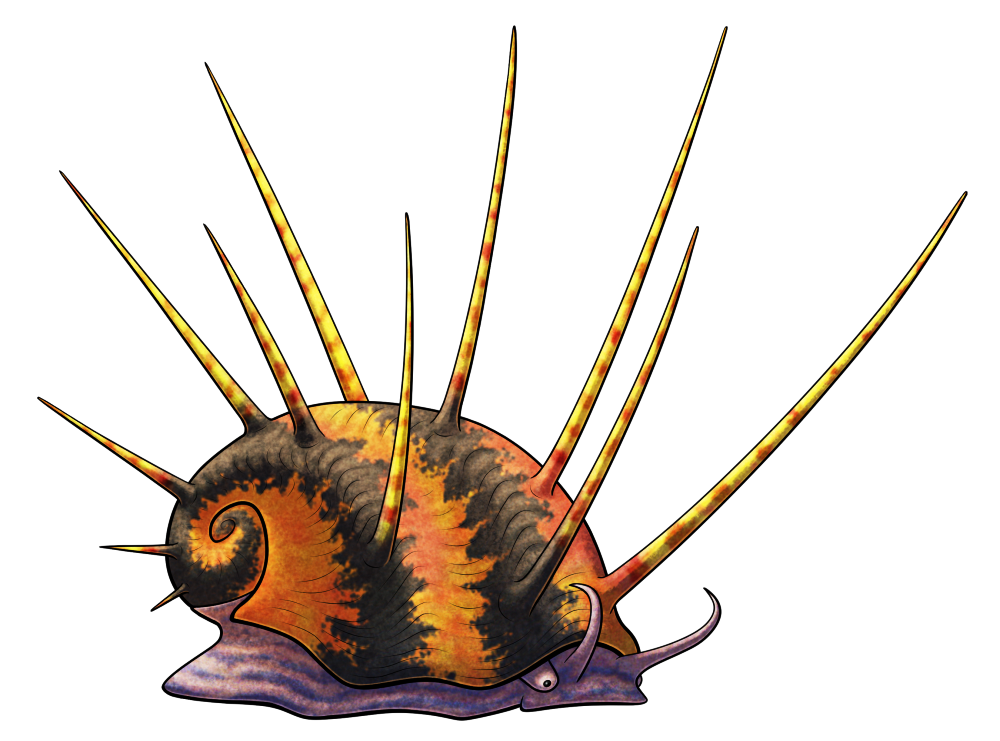 Spinyplatyceras arkonense lived in what is now Ontario during the mid-Devonian, about 391-385 million years ago. Around 5cm long (2″), it was part of a group of Paleozoic marine snails known as platyceratids, which were probably related to either modern limpets or neritomorphs.
Platyceratids seem to have had a unique parasitic relationship with crinoids, attaching themselves to the top of the host's body and using their radula to drill into them, either robbing food directly from the crinoid's gut or feeding on its other internal organs.
The long spines on Spinyplatyceras' shell probably helped to deter predators. In an interesting case of coevolution the crinoid hosts of some platyceratids developed their own defensive spines, too – and it seems this wasn't to prevent the snails from infesting them, but to also discourage the snails' predators. These crinoids may have been frequently indirectly injured during snail-eating predators' attacks, and it might have actually "cost" them less to keep enduring an infestation than to deal with the collateral damage of the snails being removed.